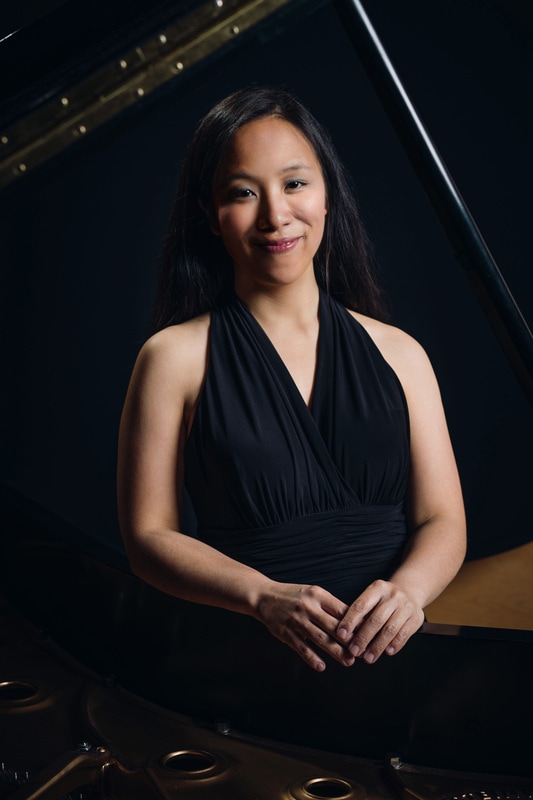 (Photo Credit: Brad Howe Photography)

​"The program for this recital was an eclectic mix of music in roughly chronological order. However, the obvious connection within the program was that Wan clearly had an emotional tie with each one. Perhaps the best thing about watching her perform is the joy she exudes while playing. Wan has a sort of quiet intensity that manifests itself regardless of the mood set by the music ... A Prelude and Fugue from Bach's Well-Tempered Clavier opened the concert with a showcase of Wan's intricate interpretation, mixing precise articulations with independent phrasing of each melodic line, apparent especially in the Fugue. An exuberant performance of Mozart's Sonata in D (K. 576) followed. Watching Wan's face light up with a smile while her fingers rapidly flew over the keys added to the music greatly. The serene Adagio middle movement featured a carefully phrased, lyrical melody and was bookended by two faster movements with playful articulations ... Rapid and intricate patterns in the Impromptu [Op. 90, No. 2 by Schubert] are almost harp-like in suggestion, and it was fascinating to see Wan's sense of humor at the transitions from the main theme and back again ... Wan closed her program by performing the Scherzo in E (Op. 54, No.4) by Chopin. Through this piece, it was clear that Wan performed the music with feeling that involved every fiber of her being. The middle of this piece features a slower section, with a melody that was more mysterious in contrast. It then returns to a beautiful ending, which in turn, ended the concert beautifully."
- Chelsea Huber, Music Critic, The Classical Voice of North Carolina (review on a recital at Meredith College in January 2016)


"… Wan plays these Schumann pieces as expressively and poetically as anyone I've heard, always placing her technical mastery at the service of Schumann's ever-inventive musical imagination. This is an especially well-presented recital, as beautifully played as it is recorded. … as much for your sake as for Wan's, I'd urge you to obtain a copy of it. You won't be disappointed; I promise."
- Jerry Dubins, Music Critic, Fanfare Magazine (review on compact disc, "Robert Schumann - Romance at the Piano")


"Ms. Wan put her all into a substantial program that she clearly knew down to each millisecond ... Her steadiness was remarkable ... the greatness of the music shone through. The moderately paced Bourres hald the most interest, showing playful articulations and voicing ... The Mozart Sonata in F Major, K. 332, was colorfully interpreted. A good range of dynamics was realized, and the Mozartean drama was well delineated in what an excellent performance. The attention to detail Ms. Wan showed will be of great benefit to her students ... [In] the two Chinese works, there were moments of virtuosity, but Ms. Wan's involvement seemed most intense in the softly expressive moments ... Ms. Wan's joy in music making was infectious. Her encores of Chopin were meltingly lovely, closing an enjoyable debut."
- Rorianne Schrade, New York Concert Review


"The conference's opening concert began with Pui-Shan Cheung's piano work, Three Chinese Paintings, beautifully performed by talented pianist Agnes Wan. Separated in to three movements, "Lotus Pond", "Cloudy Mountains", and "Wildflowers", the work exhibited an array of virtuosic musical flourishes which Wan executed energetically."
- Feminist Music and Theory Conference, University of North Carolina Greensboro Music Review


"A totally committed and involved interpretation of this music. Compelling artistry that draws the listeners in and envelops them with musical joy … There is nice poetry and flow to your lyrical playing … terrific variety of sound and meaningful sonority … Big pianist. Big musician. Big potential."
– Adjudicators' comments, Los Angeles Liszt International Piano Competition


"She (Agnes) plays with technical fluency, dramatic sweep, and musical conviction. At times, I feel that her whold being exudes musicality."
- Uriel Tsachor, Professor of Piano, The University of Iowa



​Reviews from Masterclass/Workshop at the Milwaukee Music Teachers Association:
"Absolutely fantastic with the students! and he learned some really helpful things, some reminders".

"Agnes Wan presentation on relaxation techniques for pianists was a most worthwhile event. In the lecture portion of Ms. Wan's presentation, she presented some practical movements that when put into practice will facilitate a relaxed approached to piano playing. The master class with the three students was perhaps, of even more benefit as Ms. Wan was able to demonstrate how to analyze each young performers technique, offer concrete ways to correct and better each participants technique, and show results in a more musical and relaxed performance. She handled each young performer with grace and encouragement while at the same time, gave each participant, and us as observers, practical ways to help overcome tension. She was able to help each participant achieve a more musical sound through relaxed palm and hands, adjusting sitting distance from the piano for better weight transference, and applying circular motion and other relaxation techniques resulting in better musical phrasing and sound production. Again, a very worthwhile masterclass, and thanks to those who arranged this."

"I thought it was wonderful! I have to admit I was a little nervous for (my student who participated in the masterclass) because she is very quiet and timid. I was hoping this would be a good experience for her to kind of bring her out of her shell. But Agnes did a wonderful job of easing her into the situation and making her comfortable on stage. I thought she had kind, constructive feedback and valuable technique advice. "

"Agnes was very informative, and I learned a lot of ideas I can apply to my playing right away. I feel she was especially gifted at encouraging and helping the student performers improve their playing, and I would imagine it was valuable for the teachers to see her methods learned and applied in real-time. I'm glad I was able to attend!

"Her animation and continual "positiveness" yet, prodding the student to try it again and again to improve that skill set was great!

"As a teacher who gives master classes myself, I thought she did a great job of prioritizing the subject matter she wanted to bring out in the piece with the time frame she had to do it in. This is a very difficult concept at times with a longer piece of repertoire. She managed to talk about all the different sections with in the piece and master the ending too! Well done!"